Tulsidas is counted among the greatest poets of India. Ramayana written by him is known all over the world today. By the way, he is not the original author of Ramayana. He translated the Sanskrit Ramayana into Awadhi and gave it a new name – "Ramcharitmanas". The translation done by him has made Ramcharitmanas reach every household today. But he is not only the author of Ramcharitmanas, he has also composed many other great works. Many other hymns have been written like Hanuman Chalisa. Tulsidas is also the author of popular bhajans like Shri Ramchandra Kripalu Bhajwan, Thumak Chalat Ramchandra.
Tulsidas says in one of his addresses – 
  घर घर मांगे टूक पुनि भूपति पूजे पाय | जे तुलसी तब राम बिनु ते अब राम सहाय || 
(तुलसीदास जी कहते है जब में श्रीराम की भक्ति नहीं करता था, तब घर घर टुकड़े मांगता था।  जब श्रीराम मेरे साहयक हो गए है राजालोग भी मेरे पैर पूजते है।  यांनी भक्ति से सब कुछ संभव है। )
(Tulsidas ji says that when I did not worship Shriram, then every house used to ask for pieces. When Shriram has become my helper, even the kings worship my feet. That is, everything is possible with devotion.)
When you read the Ramayana written by him, you will find that he has given a very different interpretation of every small or big incident that happened in the Ramayana. You will not find this type of explanation in Maharishi Valmiki's Ramayana. He has addressed every character of Ramayana by a name.
For example, he has used the word "Bhakti" for Goddess Sita. They say that Goddess Sita is the symbol of devotion. Tulsidas describes Manthara as a symbol of "Kusang" when Lord Rama is exiled due to the ill-intelligence of Kaikai's maidservant Manthara. They say never touch Kusang. He even said that do not touch Kusang even with the help of someone else."
Hindi literature has divided all the creations into four sections according to their time.
Early period (before 1350)
Bhakti period (1350 to 1650)
Ritual Period (1650 – 1850)
Modern period (from 1850 to the present day)
Tulsidas is considered as the poet of Bhaktikal according to the Kaal section of Hindi literature. Bhaktikal is also called the golden age of Hindi literature. Among all the poets of Bhakti period, one specialty is that they wrote more on devotion to God.
Real name of Tulsidas :-
The real name of Tulsidas was Rambhola Dubey. Later he was named Tulsidas. Then later, looking at his creation, he was given the title of "Goswami Tulsidas". He was Ramanandi Vaishnava Hindu saint, and he worshiped Lord Rama.
Birth and birthplace of Tulsidas ji: –
There is doubt of the exact place where Tulsidas was born, Scholars talk about three places regarding his birthplace. Right among them believe that his birthplace was Soron, Sukar area of Kashganj district of Uttar Pradesh, on the banks of river Ganga. Later, in 2012, the Uttar Pradesh government officially recognized Sukarkhet Soro as the birthplace of Tulsidas. We can definitely assume that he was born in the state of Uttar Pradesh in today's India. 
The Tulsighat of Banaras is named after him. The Sankatmochan Hanuman Temple in Varanasi was built by him and this temple is dedicated to Hanuman, an incarnation of Lord Shiva. There is also a belief that Lord Hanuman always resides here. Today India's Ramlila is famous all over the world. It was also started by Tulsidas. Since then a play based on the life of Lord Rama is performed every year for the first 10 days of the month of Ashin. Dashami of Ashwin is also called Vijayadashami, it is because Lord Rama killed Ravana on Dashavi of Ashwin.
There is a difference of opinion among the scholars regarding the year of birth of Tulsidas. Different scholars tell his birth year differently. Many sources rely on Veni Madhavdas's account in the Mula Gosai Charita, and according to him he was born in Vikram Samvat 1554 (1497 CE). His birth year is supported by Shivlal Pathak, Edwin Greaves, Hanuman Prasad Poddar, Ramanand Saraswati, Ayodhyanath Sharma, Ramchandra Shukla, Narayandas, Rambhadracharya and some famous press media like Geeta Press, Naval Kishore Press and Venkateswara Press.
Another group of biographers places Vikram Samvat 1568 (1511 CE) as the birth year of Tulsidas. This group is headed by Goswami Tulsidas of Soron and Sir George Gierson. This group includes Ramakrishna Gopal Bhanderkar, Ramgoolam Divedi, James Lotchefeld, Swami Sivananda and other biographers.
However, in the year 2011, the Government of India and provincial governments celebrated the 500th birth anniversary of Tulsidas. According to this he was born in 1511.
His mother's name was "Hulsi" and father's name was "Atmaram Dubey". Most scholars consider his gotra to be "Bhardwaj dynasty". While some scholars identify him as a Sandhya Brahmin, some scholars identify him as a Kanyakubaj or Saryuparin Brahmin.
At the age of 6, Rambola (Tulsidas) was adopted by Narharidas, a Vaishnava saint. Narharidas was the fourth disciple of Saint Ramanand. There he was named Tulsidas from Rambola and he was given the initiation of detachment or disinterest. Tulsidas further tells through Vinayapatrika that when he was 7 years old, his Upanayana Sanskar took place in Ayodhya in the month of Magha. (Upnayan Sanskar is one of the 10 Sanskars in Hinduism.) Tulsidas started his early education in Ayodhya itself. Then later Narharidas takes him to a special place Varaha Kshetra Soren. (Soren is today located in Uttar Pradesh.) Varah Kshetra is dedicated to Lord Varah, an incarnation of Lord Vishnu. His Guru Narharidas narrated the Ramayana to him there for the first time. He has mentioned this incident in Ramcharitmanas written by him.
Tulsidas tells that when he heard Ramayana for the first time, he did not understand much because he did not have much knowledge in his childhood. Later Tulsidas came to Varanasi and he studied Sanskrit grammar, four Vedas, six Vedangas, astrologers and 6 schools of Hindu philosophy in a period of 15 – 16 years from Guru Shesh Sanatan, which was situated at Panchganga Ghat of Varanasi. Sesh Sanatan was a friend of Narharidas and was a famous scholar of literature and philosophy.
There are two views regarding the marriage of Tulsidas ji. One opinion which considers him lifelong Brahmchrya and the other opinion considers him a married man. 
People who consider Tulsidas to be celibate :-
One side considers Tulsidas as a celibate monk since childhood. He argues that – Rambhadracharya has indicated the celibacy of Tulsidas through two verses of Vinayapatrika and Hanuman Bahuka.
People who consider Tulsidas as a married man :-
One side considers Tulsidas to be married. According to them, Tulsidas was married to Ratnavati, a salt woman. According to Vikram Samvat, they were married in the month of Kartik. Ratnavati was the daughter of Deenbandhu Pathak and she belonged to the Bhardwaj gotra. Ratnavati was from Badariya village of Kasganj. Tulsidas also had a son who died in childhood. This incident is also mentioned in Tulsi Prakash and some other places.
Most people consider Tulsidas only as the author of Ramcharitmanas. But apart from Tulsidas Ramcharitmanas, many other sarees have been composed. His creation is found in two languages – Awadhi and Brij Bhasha.
Most Famous Works by Tulsidas in Awadhi Language:-
Ramcharitmanas by Tulsidas
Tulsidas has composed Ramcharitmanas in Awadhi language. The Ramcharitmanas is an Awadhi or regional language version of the Sanskrit Ramayana, a book based on the life of Lord Rama. Ramcharitmanas is the most read and sung Ramayana today. In Ramcharitmanas (Ramayana) composed by Tulsidas, Tulsidas gave his meaning on every incident. He gave a surname to all the characters in Ramcharitmanas. Like Goddess Sita was called "Bhakti" and he explained the meaning of Bhakti through this medium.
Ramcharitmanas is also the biggest work composed by Tulsidas.

Tulsidas has not mentioned Uttarkand in Ramcharitmanas. The Ramcharitmanas composed by him ends when Lord Rama comes to Ayodhya after killing Lankapati Ravana. It is said that after reading the Uttarakand of Sanskrit Ramayana composed by Maharishi Valmiki, Tulsidas gets very upset and sad and he removes this part of Ramayana from his book.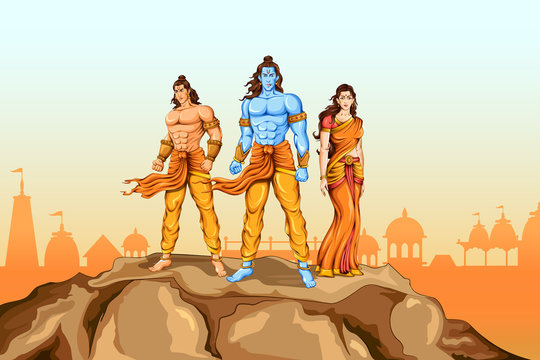 Apart from this, Tulsidas also composed works like Ramlala Nahchu, Barvai Ramayana, Parvati Mangal, Janaki Mangal, and Ramagya Prashana in Awadhi language.
Most Famous Work by Tulsidas in Braj Language
Tulsidas also composed in Braj Bhasha. Krishna Gitavali, Gitavali, Sahitya Ratna, Dohavali, Vairagya Sandipani and Vinay Patrika are the books written by him in Braj Bhasha. Vinay Patrika provides a lot of information related to the life of Tulsidas.
Apart from this, he is also considered the creator of Hanuman Chalisa, Hanuman Ashtak, Hanuman Bahuk and Tulsi Satsai. Apart from this, some folk hymns which are very famous even today have been written by him.
– Thumk Thumk Chalat Ramchandra
– Bhaye Prakta Kripala Deen Dayala
– Shriramchandra Kripalu Bhajwan